In this article, I'm gonna look into a powerful tool for native and social advertising > PowerAdSpy.
If you haven't heard about them already, social ads spy tools are the next big thing in competitor research. They're also something of a closely guarded secret among advertisers.
Many new advertisers simply don't know about them, which puts them at a major disadvantage when compared with those marketers who are in the loop.
Thankfully, there's been a lot of recent developments in this area, and competitive intelligence tools are starting to gain in popularity and some are even offering attractive prices for new users.
What are Ad Spy Tools?
If you haven't used them before as part of your competitive research, here's why you might consider making the leap.
For one thing, they offer the best way to find out what your competitors are doing.
You can see everything from ad copy to creatives and landing pages and even which offers are currently trending.
They also offer you a quick way to apply your competitor's strategies to your own campaigns, saving you thousands of dollars and countless hours testing creatives and finding your target audience.
So what makes PowerAdSpy different from some of the other social ads spy tools?
Many social ads spy tools focus on just one platform, such as Facebook Ads.
This can get expensive, especially if you need to use more than one tool to keep track of where your competitors are advertising.
With PowerAdSpy, users can track competitor campaigns across a large number of social platforms at the same time.
By having everything in one place, you also get better value for money and have a neat way to keep track of what everyone is up to.
So how can you use PowerAdSpy to make money?
Well, before I answer that question, let's take a closer look at the platform, starting with the Dashboard.
What is PowerAdSpy?

PowerAdSpy is the next generation in social ads spy tools that takes the guesswork out of competitive intelligence.
It builds on the successes of previous platforms and gives advertisers massive insight into competitor campaigns and strategies.
And, unlike other spy tools on the market, it does this across the following traffic sources and social networks, all accessible from one single platform:
Facebook
Google Ads
Google Display
YouTube
Instagram
Reddit
Quora
Native Ads
Wanna get your hands on PowerAdSpy right away?
Stick with me and I'll let you know how you can access one of the best social ad spy tools for a substantial discount.
Dashboard Overview
One of the notable things about the Dashboard of PowerAdSpy is the focus on different social media networks which you'll see on the navigation bar.
Why is this so good?
Social networks are continuously adapting to changes in advertising. eCommerce advertising alone has grown astronomically on both desktop and mobile, and native ads have been shown to have a much higher CTR than other ad formats.
So as social networks adapt to these changes by creating new features for advertisers to use, it makes it easier than ever for brands, affiliates and marketers to stay profitable and scale their campaigns.
Coupled with this, smart advertisers will also review their strategies to maximize their returns, depending on which platform they are advertising on.
With PowerAdSpy, rather than just sticking to the platform that you know best or churning out campaigns the only way you know-how, you can search across each one to see which strategies are prevalent across different networks among your competitors.
Without this, not only could you be leaving a lot of money on the table, but you may also miss out on revenue by not advertising in the places that convert best for your offer.
Below the navigation bar, you'll see all the creatives shown as a result of selecting the filters in the search column.
Best Affiliate Marketing Tools
This masonry layout will be familiar to anyone who has previously used social ads spy tools.
These results you see here change dynamically, depending on the search filters you use.
Each ad shows you the creative, the ad title and ad copy, and the social media engagement stats for the ad, along with a button to show analytics or view the original ad. This is a pretty neat feature that allows you to see how the ad looks in its original setting.
You can also contribute to the platform by adding tags to the creative, submitting a bug report or labeling the ad as an affiliate or non-affiliate ad.
The other cool thing about the way the creatives are displayed is the advertiser's name in the top left-hand corner. You can click on this to view all running ads by that advertiser, and even subscribe to get notifications of any new ads as they arrive.
Finally, you can save ads to your favorites by clicking the star icon.
PowerAdSpy Features
Effective Search Bar
When it comes to paid social media advertising, we all need to check competitor's ad parameters like relevancy, reach, engagement, and copy. That helps us to create the best ads for our audience.
A random search is a little bit confusing, but PowerAdSpy has 03 majors categories to begin search ads, which are:-
Let's have a look deep for each of them to understand their functions properly.
Domain
This feature of PowerAdSpy helps us to search the ads of our competitors. We need to add the domain name only. PowerAdSpy will display all the available ads in their database for that particular domain along with their complete marketing strategy.
You can also add "Ad Text" to refine your ads more.
Advertiser
This feature of PowerAdSpy allows us to search ads from the advertiser's name. We need to enter the advertiser name(brand name, Facebook page name). PowerAdSpy will display all the ads running for that advertisers.
You can also add "Ad Text" to refine your ads more.
Keyword
It is another powerful feature of PowerAdSpy. We need to add related keywords at the place, PowerAdSpy displays all the ads related to mention keywords
With this feature, you can also filter ads by keywords/phrases in their comments. You can also check what keywords the targeted landing page should cover.
After checking all the details, we must say it's easy to search ads from the domain, advertiser, and relevant keywords.
Isn't it?
Cool! If you still need more control to find the best ads as per your business niche, PowerAdSpy has a solution for you.
Here are the further parameters that you can implement for better searching.
Filter ads by importance
In the left-hand column of the platform, you'll see a bunch of filters.
This is where things start to get pretty interesting and the power of PowerAdSpy comes into its own.
PowerAdSpy has a huge database, with 6 million Ads from 15+ countries, and the data is updated every day.
That's why the filters are so important if you wanna find the ads which are the most relevant to your own campaigns.
The other cool thing about the tool is the focus on video creatives, which are becoming increasingly popular on Facebook and Instagram stories.
Keyword Type

Filter Mode

Lander Properties

For Facebook, which is selected by default when you access the dashboard, you'll see the following options:
Keyword Type – Select keywords, advertiser or domain for your search mode, and search in the ad text, comments or landing page text. You can sort the results by newest, longest-running, and engagement stats such as Likes, Comments, Shares, and Views. Next, select your dates for the ad or post and click search.
Filter Mode – This mode will enable you to hone in on your competitor's strategy. You can filter by CTA (call to action), Country, Ad Type, Ad Position, Gender, Language and Age. This is super useful for discovering audience targeting and advertiser intent.
Lander Properties – This section is useful to affiliates and eCommerce advertisers who want to spy on what other affiliates are doing. Sort by popular trackers and eCommerce platforms, funnels, device source, and niche. This is where the PowerAdSpy's strapline – built by Affiliates, for Affiliates – comes into play. Use it to find some juicy competitor campaigns and discover new and trending dropshipping and eCommerce products and hot affiliate offers.
Also, depending on which network you are on, the filters will change.
You won't find engagement stats on native ads, for example, but you can instead search by native ad networks, including MGID, Outbrain, RevContent, Taboola, and others.
One of the coolest additions to the social ads platforms has to be the inclusion of the Google Display Network.
The filters here allow for Country, Ad Sub Position, Language and Image Size.
This is unbeatable for finding trending creatives in popular ad formats and can save you a bunch of time designing your own banners.
For example, memes became a popular advertising strategy in many verticals, including this ad for sports betting.

PowerAdSpy has those advertisers covered too and can give you a clear strategy for advertising on those platforms without running the risk of getting your account banned.
We think they've done a fantastic job of bringing all the different platforms together under one roof and making it simple for advertisers to find new placements for their offers.
Of course, a lot of people may choose to stick with Facebook or Instagram stories, but for the more adventurous marketers, the sky's the limit!
Some of these features, such as Reddit and Quora advertising, and others may well end up being separated in the final product, so act now if you wanna get ahead of the game, and grab our 10% discount right away!
If you wanna learn more about how to use the filters, you can check out the PowerAdSpy videos on their YouTube channel.
How to Use PowerAdSpy
So, by now, you've probably got a fairly good understanding of how the platform works.
Now, let's look at the potential of PowerAdSpy to find winning strategies and campaigns.
Create Account
Let's say you wanna search for hot casino offers.
Either use the search feature for a game you wanna see the ads for, or select the casino niche from the lander properties filter.
You can then sort by engagement or date to see the ads' popularity over time.
This makes finding trending creatives and offers a breeze and helps to unlock new angles for your own campaigns.
Don't forget to click Show Original and check the advertiser page on Facebook too by using the Page Transparency tool, to see what other ads they have running on their page.
If you see anything you like, you can either save it to favorites or download the creative to your computer to view later.
What we also like about the tool is the ability to find which placements an advertiser is using.
To see this, click on the advertiser's name in the top left-hand corner of the ad. You'll see all the different creatives the advertiser is using, along with their relative engagement stats.
Next, try clicking on the different social networks on the navbar, using the same search filters. This will help you discover where else the advertiser is running their campaigns.
You can also use the platform as a Shopify, Magento and Woocommere tracking tool to discover viral products and be among the first advertisers to cash in on the latest products.
You can use this to discover new products to promote or even to start your own dropshipping business, after seeing what is working well for other advertisers.
Analytics
Once you click on an ad to see more details, you'll be greeted with the Ads Analytics tab.
This section is literally a goldmine of information for affiliates, and shows you stats for social engagement, ad seen, country, relationship status, age, and gender.
This will give you some valuable targeting data which you can use for your own campaigns.
You'll also be able to see the current landing page for the ad, along with basic info and redirects, outgoing links and country list.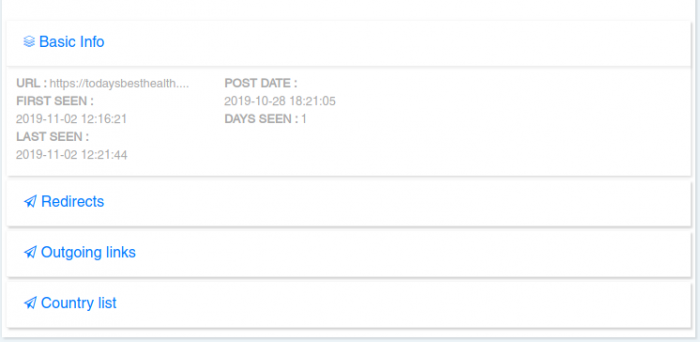 You can use this to click through to your competitor's landers, find cloaked money pages and discover which eCommerce platform the product is hosted on.
Pretty useful stuff!
Armed with the niche and audience stats, along with the GEO targeting used, you can save yourself a lot of time and money in test data and ad spend.
Really, at this stage, all that's left for you to do is to copy and implement the strategy into your own campaigns.
You'll know what sort of ads convert and you'll be able to replicate successful strategies from your competitors.
Removing the guesswork in this way is what PowerAdSpy is all about.
You can then use this valuable insight from your competitor campaigns to promote your own offers, grow your list or start your own Shopify store.
In addition, one of the benefits of using a social ads spy tool is that you'll be viewing buyer traffic.
This alone could save you countless cents, as you already know which audience converts.
However, make sure you research an ad's lifespan over time and drill down on the engagement stats before drawing any conclusions.
There's even a free Chrome extension that paid users can install to view competitor ads as they are surfing social networks. This vastly increases the usability of the tool and makes it work for you on autopilot, as you are browsing.
Pricing
The pricing on PowerAdSpy is organized according to tiers, with greater access to the 6 social networks as it increases in price.
It's competitively priced, but to get the most out of your subscription you'll really need to buy in the Premium plan. This is especially true for affiliates, as without it you won't be able to access the lander properties filters.
The price structure is as follows:
Free: Get 20 free searches on Facebook, Instagram, Google and YouTube with no restrictions on search filters.
Basic: Unlimited searches on Facebook, but with limited options for search filters. Try it free for $1 then pay $49/mo.
Standard: Unlimited Facebook and Instagram searches, excluding lander properties filters. Try it for $7 for 5 days then $99/mo.
Premium: This is where the software really starts to shine and you'll gain access to unlimited searches and all available filters on Facebook, Instagram, and Youtube. Start with a $7 trial then $149/mo.
Platinum: Everything in the premium plan, including Google network for $249/mo. Trial for $7.
Titanium: This plan unlocks Native content at $299/mo with a $7 trial.
Palladium: The whole enchilada for $349/mo, including GDN. It also has a trial at $7.
Looking for a better deal?
Register now with the exclusive promo code from mobidea10 and get a 10% discount on all your monthly subscriptions.
Summary
PowerAdSpy is an innovative social ad spy tool with a powerful search algorithm that belongs in any serious marketers toolkit.
Whether you are a marketer, affiliate, media buyer, eCommerce advertiser or ad agency, it gives you a crazy advantage over the competition.
The inclusion of 6 social ad networks is a feature that sets it apart from the competition and makes it unbeatable for social ads marketers who work across multiple ad platforms.
Having everything all in one place, without having to log in to a separate platform, is another benefit that will appeal to time-conscious advertisers.
Plus, the ability to scale in with flexible plans, according to which networks you most frequently use, can save on costs.
For any internet marketer who has previously used a social ads spy tool, it's well worth a closer look and those who are just starting out will find themselves in the fortunate position of having PowerAdSpy at their disposal and should take the opportunity to buy now while prices are at this level.